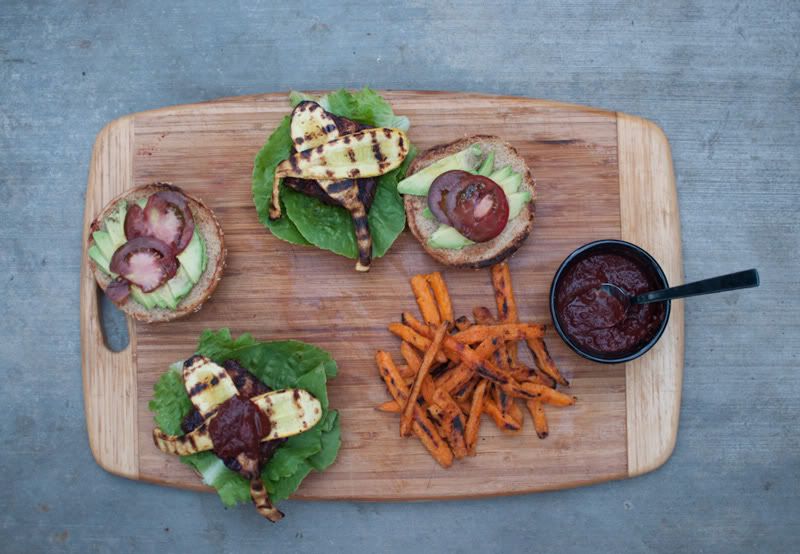 Warm nights, fresh produce, and a long weekend ahead of us. Grilling season. Like usual, I had to add the superfoods and turn the classic burger into ultimate vegan tastiness - and I think you'll like where it ended up. So here's to friends and BBQs and a great summer ahead of us all.
Açaí BBQ Sauce
(Enough for 2, size up as needed)
1/2 Sweet yellow onion
1 Tbsp olive oil
3 Sweet piquanté peppers (they are from South Africa and sometimes called Peppadews or peri peri peppadrops)
1/3 ketchup
1/2 tsp red wine vinegar
1/4 tsp chili powder (just use your favorite)
1/2
Sambazon Açaí Pure Smoothie Pack
Saute onion in oil till translucent, then add the rest of the ingredients and let simmer for a couple minutes. Pour into a blender, and blend till smooth.
The Burger
Tempeh
Yellow crooked-neck squash
Tomato
Avocado
Romaine lettuce
Douse tempeh with BBQ sauce and rub squash with olive oil and add to a hot grill. Let cook till brown lines appear, flip and do the same. Add extra sauce to your tempeh each time you flip it. After about 10 minutes, or until desired doneness, add your buns to the grill to toast them briefly. Then pull everything off and assemble as you please.
Great with sweet potato fries (make them yourself of buy them frozen) and
Açaí Sangria
!